In a lovely Wedding Ceremony that won everyone's hearts, actress and singer, Kristin Chenoweth, 55, finally got married to her musician boyfriend, Josh Bryant, 41, in a wedding in Dallas, Texas wedding on September 2, 2023. This special event, featured in People magazine, was like a fairy tale come true, as Kristin Chenoweth said her vows to the love of her life. Let's explore the details of this unforgettable wedding party.
Written by Prachi Netam | Update on September 02, 2023 | 10: 40 AM |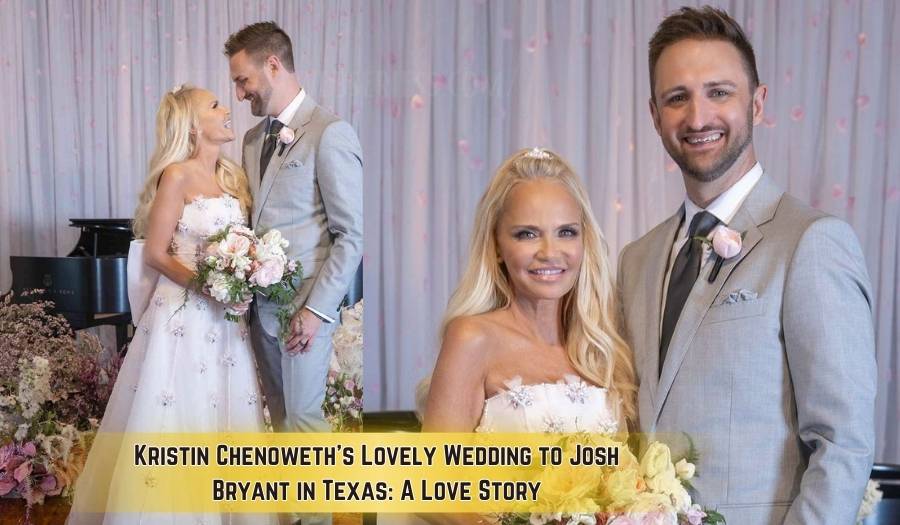 Kristin Chenoweth's Dreamy Wedding: A Love Story in Texas
Introduction
Kristin Chenoweth, the famous actress and singer who won a Tony award, got married to her musician boyfriend, Josh Bryant, in a sweet wedding ceremony in Dallas, Texas, on September 2, 2023. This special event, covered by People magazine, was a celebration of their love, faith, and music, showing the unique journey that brought them together.
A Love Story That Surprised Everyone
For Kristin Chenoweth, getting married wasn't something she thought about until she met Josh Bryant. They first met in 2016 at a wedding where Bryant's band played. It wasn't until 2 years later, at another family wedding, that they fell in love. Chenoweth wasn't expecting to fall in love, especially with someone 14 years younger, but their strong connection convinced her. Their love grew even stronger during the COVID-19 pandemic.
Late-Night Snacks and Goodie Bags:
Late-night snacks included Dunkin Donuts and 7-11 Slurpees, and guests left with gift bags filled with treats like Nest candles, Nivea Chapstick, Doritos, Fiji Water, and Fontus Lozenges.
Kristin Chenoweth's Beautiful Wedding: A Love Story in Texas
The Wedding Celebration
The Wedding Celebrations started with a dinner at Capital Grille, where they had a custom cake from Baskin-Robbins. The next day, they, along with 140 guests, gathered at a private home for the main event. A string quartet played beautiful music, setting the perfect mood. Their dog, Thunder, played a special role, bringing in the rings to AC/DC's "Thunderstruck."
The Ceremony and Promises
A Friend officiated the ceremony, and they exchanged vows with a twist, leaving out the word "obey." They included their Christian faith with a moving performance of "The Prayer" by talented singers. The wedding decorations, created by Crystal Frasier Weddings, used soft, romantic colours like various shades of pink, white, and champagne.
The Bride's Unique Dress
Chenoweth, known for her unique style, chose a Pamella Roland dress with a sheer nude and pink overlay and a special bow at the back. The dress had small pearl flowers on it and reflected her elegant but different style. Bryant's father and father-in-law looked great in suits from Men's Wearhouse.
A Happy Reception with Music and Love
The reception was a happy celebration filled with music, showing their shared love for it. Their first dance was to "I Can't Help Falling in Love with You," performed by their friends Ty Herndon and Toby Freeman, with Mary-Mitchell Campbell playing the piano. Bryant's dream came true when they had a musical jam session, with instruments available for friends and family to join.
Romantic Decor
The wedding decor, expertly arranged by Crystal Frasier Weddings, featured soft romantic colours like white, ivory, cream, soft peach, blush, medium pink, and champagne tones. The space was adorned with beautiful flowers, including calla lilies, garden roses, hydrangeas, ranunculus, and greenery.
Tasty Treats and Gifts
Guests enjoyed special cocktails, like the "Wicked Margarita," a nod to Chenoweth's Broadway role. Dinner featured comfort food, and dessert was a fantastic five-tier vanilla wedding cake. Each guest received a gift bag with candles, chapstick, chips, water, and lozenges.
Delightful Desserts
The newlyweds cut a Five-tier Mexican vanilla bean wedding cake with buttercream filling. Guests also received boxes of sweets, including Belgian chocolate bonbons, chocolate salami, and gourmet cookies.
Celebrity Guests
The wedding was graced by famous friends, including Kathy Najimy, David Foster, Katharine McPhee, Kenny Ortega, Chely Wright, Jennifer Aspen, and Broadway composer Andrew Lippa.
A Dream That Came True
For Kristin Chenoweth, this wedding was a big moment. She hadn't expected to get married, but her love for Josh Bryant changed her mind. Bryant also felt like his dream came true, blessed by God.
Conclusion
Kristin Chenoweth and Josh Bryant's wedding was a beautiful celebration of love, faith, and music. Their unique journey to marriage and their special wedding ceremony showed that true love can surprise you and bring happiness beyond what you can imagine. This event will be a treasured memory for the couple and their loved ones for a long time.
---
READ HERE – Miley Cyrus Shares Disney Nostalgia & Cheesecake Factory Fun on TikTok